Pharmaceutical Science
Transform your interest in biology, chemistry and medicine into an exciting interdisciplinary career.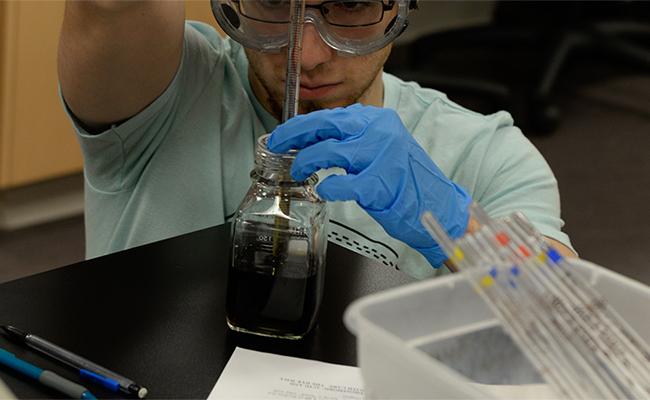 Impact society by developing medical solutions.
Majoring in Pharmaceutical Science opens pathways that you may have never known existed. Many students who pursue this major will go on to become pharmacists, but you can also use this degree to design, manufacture or test ground-breaking medications.  
Pharmaceutical Science draws together the fields of biology and chemistry with an ultimate goal of studying drug development. If you are looking for a career that involves using medicine to help others and you enjoy a challenge, this major might be for you.  
Student-centered advising
A degree in Pharmaceutical Science can lead to graduate school, work in a pharmaceutical manufacturing company, becoming a pharmacist and more! To help you navigate through all of these options to find the path that is best suited for your skillset and interests, we have a designated faculty advisor who will work with each individual student in the program. We have designed special seminars into the program with opportunities to learn more about working in the field of pharmaceuticals and biomedical research.
Learn in state-of-the-art facilities
The Stewart Science building is a five-story complex that houses several science departments, and is home to newly renovated chemistry laboratories. The labs contain suites of advanced, modern equipment that all students have direct access to, where you can learn to troubleshoot and work independently. Our curriculum and laboratory program have been approved by the American Chemical Society for over 50 years. The ACS is the world leader in chemical development.
Focus on research
Faculty in the science departments at Waynesburg University are invested in teaching students not only in the traditional classroom but also in research settings. Each student has the opportunity to get involved in a research project during their time at WU. If you are interested in pharmaceutical research as an undergraduate you can become involved as early as your freshman year.
Biomedical/pharmaceutical career options
You will be grounded in all of the foundational chemical sciences to understand biology and medicine at the molecular level. If you do not want to be a pharmacist or find that this is not the career for you, our planned coursework will provide you with extensive career opportunities. The experiences gained as a part of your major will set you apart as you look to research, manufacturing, government or drug development career paths beyond your time at WU.
Coursework
View the academic catalog to further explore the curriculum.