Communication
Study how we inform, interact, and persuade one another while exploring hands-on opportunities.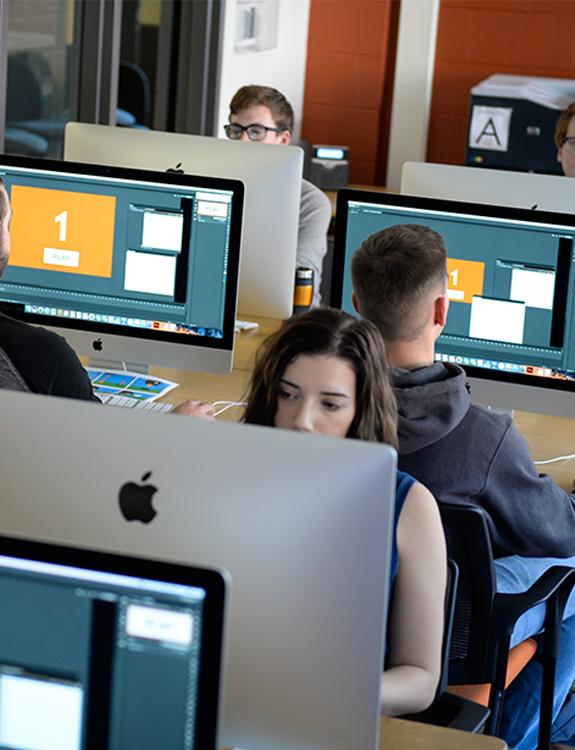 When you hit the job market, communication employers want to see what you can do. As a graduate of Waynesburg University, you'll have an amazing portfolio that will open many doors.
In addition to classes that build a foundation in mass communication techniques, ethics, theory, and strategy, you'll also participate in media production outside of the classroom to apply what you've learned. As early as the first week of your college career, you can begin working for the campus newspaper, the Waynesburg University Sports Network, WCTV, or one of the many other co-curricular activities. Our program's equipment and facilities include an iMac lab for web and print design, an industry-standard newspaper production facility, radio station and television channel, a mobile television production truck, and a photography studio.
While you can graduate with a Bachelor of Arts in Communication, many students find themselves drawn to one of the Department of Communication's specialized programs including: public relations, advertising, journalism, digital design, electronic media, sports media, or sports announcing.
Strengthen your degree
Study the messages that bombard us daily through print and broadcast media, the film industry, and emerging communication technologies, such as social media. A communication minor can complement a range of professions, from law to biblical ministry.
Tailor your course of study
If your career interest leans toward video and audio production, you'll learn how to shoot well-composed video, record clean audio, edit your footage, and perfect everything in post-production so you can build a well-rounded professional portfolio to impress employers and launch your career. If you prefer writing or design, you'll gain experience in our public relations, journalism, and digital design courses. You'll learn the ins-and-outs of the Adobe Creative Suite and learn to interview, write, and edit news releases and news articles.
Coursework
View the academic catalog to further explore the curriculum.
Take a tour of our T.V. Studio