Journalism
Gain the experience, skill and clips you need to work in the professional reporting industry.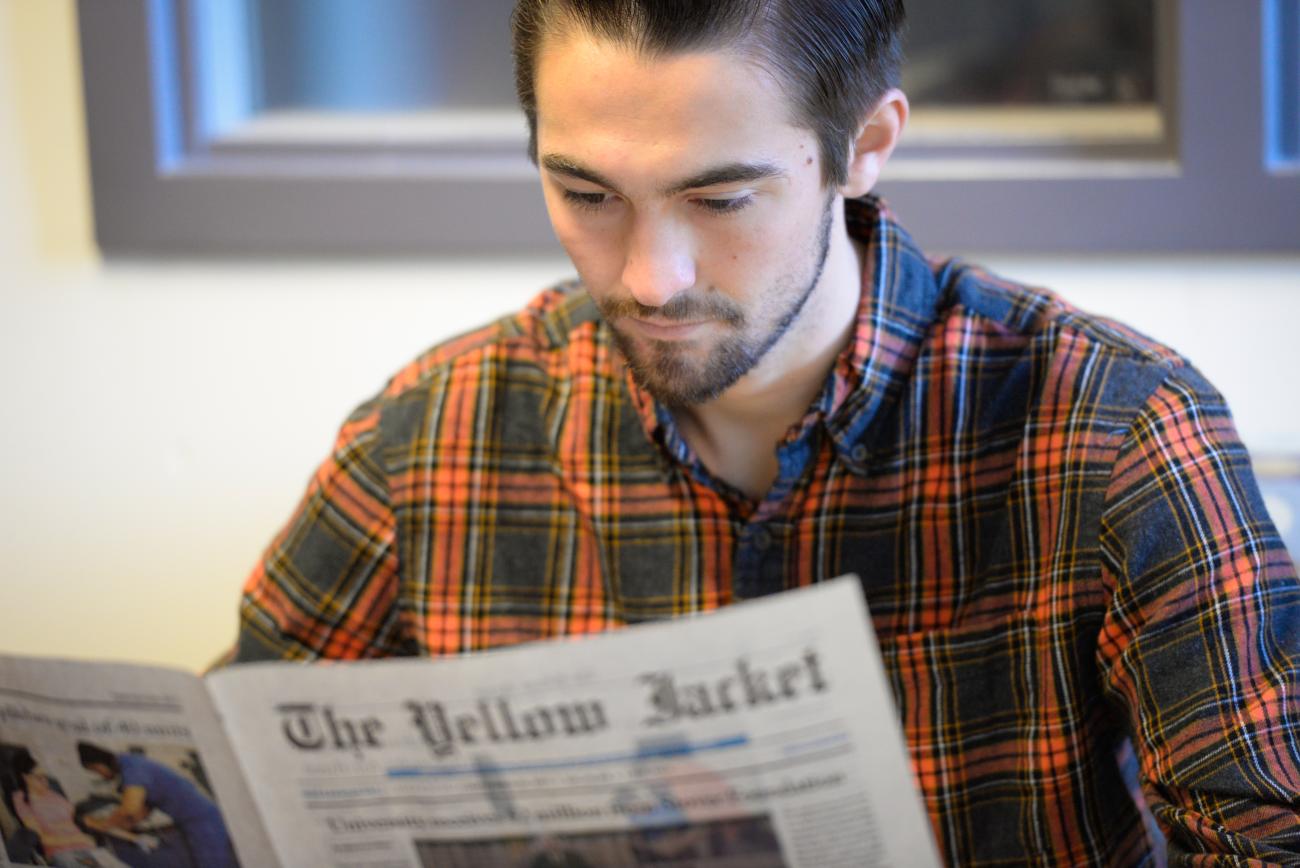 As democracy's fourth estate, journalists seek the truth and uncover the facts.
As a journalism major, you'll learn how to report stories by developing and honing skills in interviewing, writing, design, and multimedia production. Our media production facilities will keep you ahead of the tech curve, while coursework will place an emphasis on growing a strong writing and interviewing foundation.
You'll use the Mac Computer Lab to design pages and infographics, fine-tune your photography skills, and edit digital portfolios and websites. The newsroom is home to the award-winning 16-page university newspaper, The Yellow Jacket, and you can earn your first byline as early as your first month on campus as part of the staff. As a journalism major, you can explore news reporting, online reporting and social media, and you can expand your portfolio by getting involved in the campus television and radio stations.
Join the ranks of success
Our student journalists have worked, interned, or freelanced with many local and national news organizations, including the Pittsburgh Post-Gazette, The Chronicle of Higher Education, and Fox Business News. In addition to growing as a writer and journalist, you'll have ample opportunity to study video and audio production, news package generation, social media, design, and photography to make you well-rounded and marketable to any number of news organizations.
Strengthen your degree
Study feature and news writing, web design, photography, and newsroom production under the guide of expert faculty and seasoned pros through the journalism minor program. Understanding mass communication and the role of the media can well serve a range of career paths, especially as the lines of truth blur amid rapid technological and political change.
Alumni testimonials
"By the time I graduated, I had a portfolio of clips from the student newspaper and several local papers and magazines that were paramount in landing my first job as reporter in Los Angeles."
Sierra Shafer, Editor-in-Chief, Powder Magazine
"The best thing about the Department of Communication is the dedication and care the professors have for their students—both inside and outside the classroom. The love they have for their fields of study is infectious."
Jacob Meyer, Sports Reporter, The York Dispatch
The Yellow Jacket
The Yellow Jacket campus newspaper has featured in-depth coverage of Waynesburg University and the surrounding area since its establishment in 1924.
Society of Professional Journalists
Waynesburg University's Society of Professional Journalists chapter provides print and broadcast students the chance to obtain professional connections through journalism events and conferences.
Coursework
View the academic catalog to further explore the curriculum.