Waynesburg University's eHIVE was recently awarded the Outstanding Emerging Entrepreneurship Center by the Global Consortium of Entrepreneurship Centers (GCEC) during its annual conference held Thursday, Oct. 5, through Saturday, Oct. 7. More than 700 representatives from universities across the world were in attendance.
Image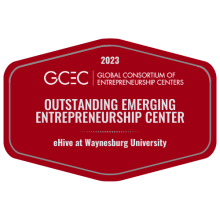 The award was announced at the annual GCEC conference awards ceremony at the Perot Museum of Nature in Science in Dallas, Texas, Saturday, Oct. 7, where a total of 12 universities were presented top honor awards. Mindy Walls, J.D., W. Robert Stover Chair for Entrepreneurial Leadership and Director of the Entrepreneurship and Innovation Program, accepted the award on behalf of Waynesburg University.
"This award means a great deal to the eHIVE, the Entrepreneurial Leadership program and Waynesburg University," said Walls. "It is a highly prestigious award that is selected by peer reviewers from around the world. It validates the work that we are doing in entrepreneurship at WU and holds us out as an exemplar in our discipline."
To be considered for the award, the University's eHIVE submitted an application for review to GCEC. Selection criteria included submission of the purpose, goals and objectives of the center; the center's engagement on campus and within the community; a portfolio; and metrics for sustainability. From there, judges ranked the eHIVE based on its submitted criteria.
"This prestigious award is an exciting opportunity to showcase and celebrate the work our eHIVE has made over the past five years," said Cassy Dorsch, Director of the eHIVE. "It is an incredible honor to be selected for the award. It highlights our center's ability to meet strategic goals, milestones, team, foster sustainability and offer unique experiential learning opportunities."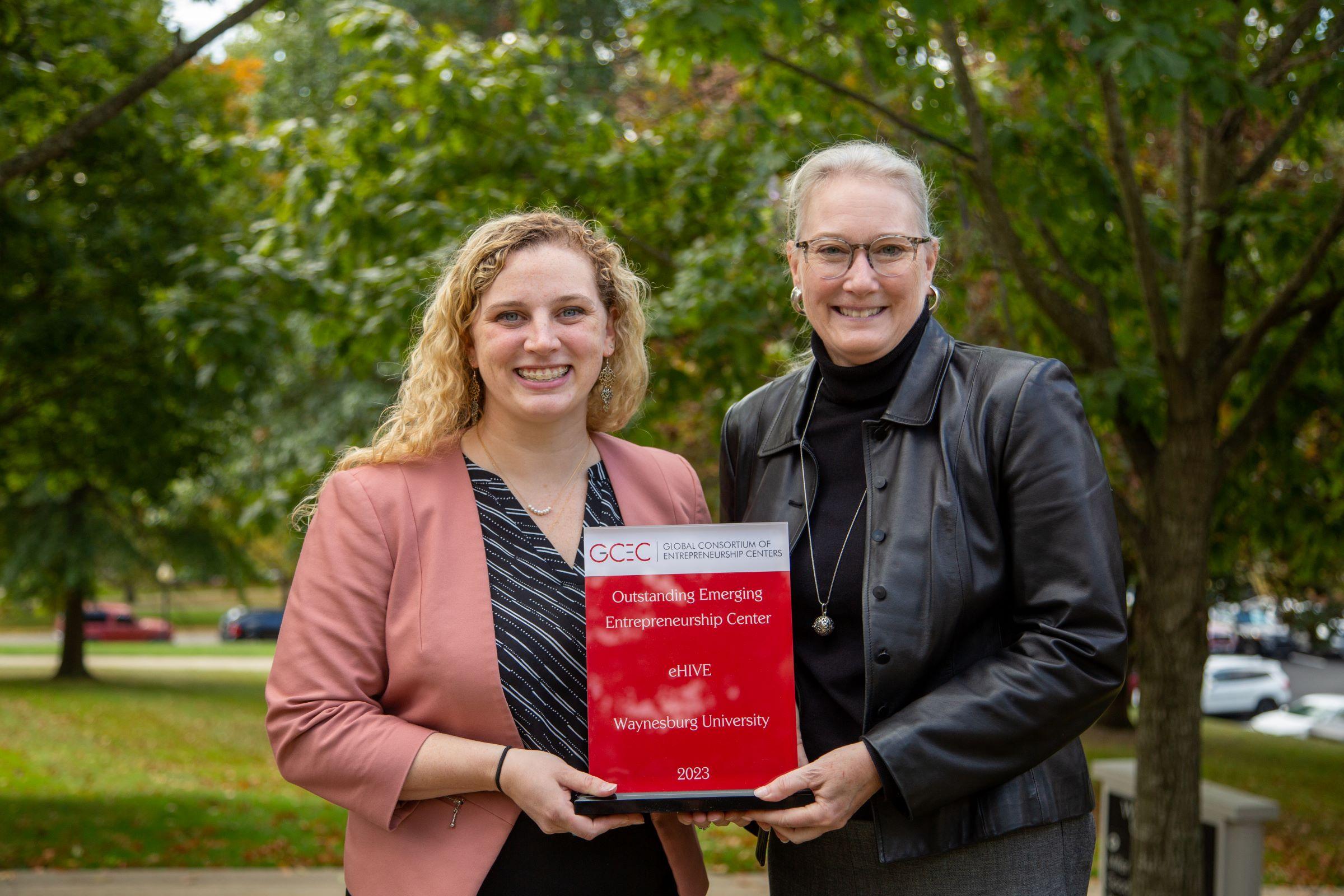 Waynesburg University's eHIVE, the University's co-curricular entrepreneurship and innovation hub, was founded on Oct. 5, 2018, and just recently celebrated its fifth anniversary on campus.
Through this center, students interested in starting a business, regardless of major, have the opportunity to take programming and one-on-one counseling. They also have the ability to receive hands-on learning through the eHIVE's student learning labs, which include the University's official on-campus store, The Nest, and the new prototyping lab, the Makerspace, which features a variety of high-end machinery made possible through generous donor support, including 3-D printers, a laser engraver, a computer numerical control (CNC) machine, apparel printing and more.
During this past year, Waynesburg University also became a founding institution of the Entrepreneurial Leadership Council (ELC), which was established with the help of The Allegheny Conference in Pittsburgh. Through the ELC, entrepreneurial and innovation programs from top institutions in the Pennsylvania, Ohio and West Virginia regions are able to offer their students unique opportunities to grow their skills and engage with employers.
Waynesburg University's eHIVE
Learn more about the eHIVE at the link below.