Waynesburg University honored the Class of 2022 during Commencement Exercises on Saturday, April 30, and Sunday, May 1, on the Lawn of Miller Hall, honoring more than 400 undergraduate, graduate and doctoral students.
The Honorable D. Brooks Smith, Senior Judge of the United States Court of Appeals for the Third Circuit, and Laural Ziemba, Director of Public Affairs at Range Resources, addressed the Class of 2022 as the Commencement speakers, and Marilyn West, Owner and Chief Executive Officer of M.H. West and Co., served as the Baccalaureate speaker.
Ziemba spoke at the Graduate and Professional Studies ceremony at 4 p.m. on Saturday, and Smith spoke at the undergraduate ceremony at 2 p.m. on Sunday. The Baccalaureate Service was held at 11 a.m. in Roberts Chapel.
During her address, "A Patchwork in Progress," Ziemba reflected on impactful moments of practical wisdom that she has learned from others throughout her career.
This practical wisdom included: work hard, run to problems, get caught trying, and build bridges of trust that can bear the weight of the truth.
"It is my belief that we are each made up of a patchwork of experiences that we've internalized throughout our lives and on which we continue to build," she said. "Patchworks can be created through personal interactions and pieces of advice that we've gathered throughout our journeys that resonated with us."
Smith spoke on the need for engaged leaders and inspired citizens in society, during his speech, titled "Your Calling to Inspired Citizen Engagement."
Here at Waynesburg, you have absorbed not only academic substance, you have been exposed day-to-day to the endearing human values that make life worth living."
"Your years here have not been spent marking time," he said. "They have been as purposeful and as imbued with meaning as anything you will ever do. You will probably come to see the truth in that even more as you look back. Here at Waynesburg, you have absorbed not only academic substance, you have been exposed day-to-day to the endearing human values that make life worth living."
During the Baccalaureate ceremony, alumna and University trustee West reflected on her life and the impact her faith and her education at Waynesburg had on it.
"While none of us know of God's master plan, He does give us clues about its provisions, and, consequently, we must stay connected to learn what is next," West said. "I am not sure when God whispered that you would be seated to receive your degree today, but on reflection, you will recall when the joy of the possibility became real."
She told graduates to count on bumps in the road, encouraging them to use their faith and confidence to help overcome the disruption.
"Embrace full-court thinking and understand that you have many baskets that you need to make before you win big," West said. "Keep in mind that you can't always win alone, you need the team's help."
Smith and West were awarded honorary Doctor of Humane Letters degrees, and Ziemba was presented the Timothy & Carolyn Thyreen Service Leadership Award, which celebrates Timothy and Carolyn Thyreen's legacy of serving others and is presented to those who exemplify servant leadership in their daily lives, resulting in a transformational effect on their area of focus. Read more about the awards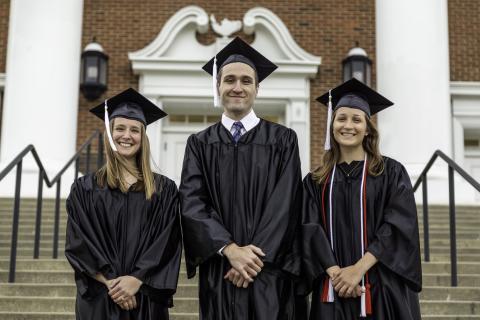 In addition, Alyson Nichole Johnson, an athletic training graduate from Raceland, Kentucky, was awarded the 2022 Douglas G. and Kathryn D. Lee Servant Leadership Award. This award was established by the Waynesburg University Board of Trustees to honor the leadership and commitment of Douglas and Kathryn Lee to the University. It is awarded each year to one graduating student who has demonstrated exceptional leadership qualities over the course of their time at Waynesburg University in the mission focus areas of faith, learning and serving.
The following students were named valedictorians:
Pellegrino addressed the Class of 2022 at the undergraduate ceremony, and Dennis Winkler, Ph.D., addressed fellow graduates at the Graduate and Professional Studies ceremony on Saturday.
About Waynesburg University
Consistently ranked a best value school, Waynesburg University's Strategy for the 21st Century affirms its commitment to developing an entrepreneurial mindset and ethical leadership skills for all students. Rooted in its mission of faith, learning and service, the private, Christian university is located on a traditional campus in the hills of southwestern Pennsylvania, with an additional site for graduate and professional programs in Southpointe.