Waynesburg University's 2021-22 academic school year officially began Friday, Aug. 20, with the University's annual Matriculation Ceremony. President Douglas G. Lee and other University leaders welcomed the freshman class at the 2 p.m. ceremony in Roberts Chapel.
This year, many students had an atypical college-search process, which included virtual tour experiences, with Waynesburg University launching its own virtual tour in early 2021. Despite this, students still found their way to Waynesburg from California, Texas, Tennessee and 16 other states.  
During the ceremony, President Lee encouraged the Class of 2025 to practice perseverance, citing examples of the University's early students and leaders faithfully persevering amidst hardships. Lee noted that the incoming class has already demonstrated their ability to adapt throughout the pandemic.
"Our mission is to educate you to make connections between faith, learning and serving so that you might live a life of purpose for the glory of God," said President Lee. "It is about doing our best to prepare you to have a successful career, and in that process, think and learn about the broader implications of faith in God and service to humanity and how a life of purpose connects all three. You are the great hope of the future."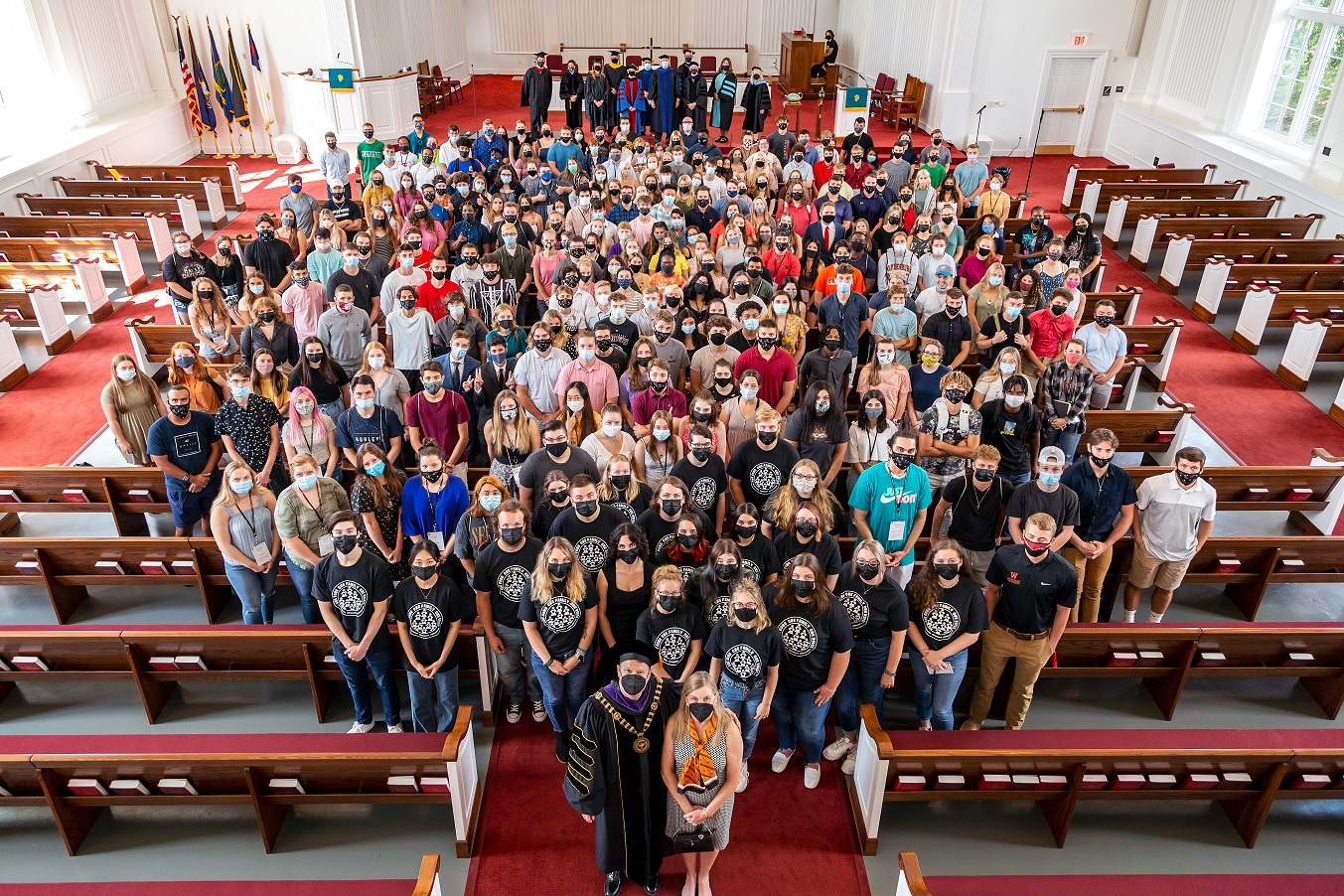 The names of matriculating students were announced by Lanny Frattare, Assistant Professor of Communication and former voice of the Pittsburgh Pirates, and Doug Wilson, Lecturer of Communication.
Matriculation marks the beginning of an eventful weekend organized to introduce freshmen to their new home at Waynesburg University. The incoming class will meet with faculty, participate in activities that allow them to meet other new students and attend numerous informational meetings.
"We are truly blessed that our strong dedication to our mission has brought a wonderful new group of students to our campus community," said Jackie Palko, Director of Undergraduate and Graduate Admissions. "We are all excited for them to embrace Waynesburg as their home away from home."
More than $10 million in aid was awarded to the incoming class.
On Saturday, new students will also participate in service projects on campus and across Greene County. Service sites include the Eva K. Bowlby Library, First Presbyterian Church, the Greene County Historical Society, Lion's Club Park, Servant Song, the Unity Trail, United Way and 2nd Sam 9.
Freshmen moved into their residence halls Thursday, Aug. 19. Upperclassmen will move into residence halls Saturday, Aug. 21, and Sunday, Aug. 22, and classes will begin Monday, Aug. 23.
The Matriculation Ceremony as well as all New Student Orientation programming is being held in compliance with the Keep Waynesburg Well Plan, which is the University's comprehensive, practical, and adaptable health and safety plan in response to the COVID-19 pandemic. The Keep Waynesburg Well Plan guided the in-person 2020-21 academic year and has been updated for the current academic year.