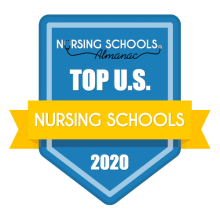 Waynesburg University's Bachelor of Science in Nursing (BSN) Program was recently ranked among the top 6% of the best public and private nursing programs in the nation by Nursing Schools Almanac.
Compared to the more than 3,000 institutions analyzed by Nursing Schools Almanac, Waynesburg ranked No. 58 out of the private nursing schools listed nationwide and No. 23 overall in the Mid-Atlantic region, which includes Delaware, the District of Columbia, Maryland, New Jersey, New York, and Pennsylvania.
According to their website, Nursing Schools Almanac utilized the following three-part methodology for their 2020 rankings: the institution's academic prestige and perceived value; the breadth and depth of nursing programs offered; and student success, as evidenced by performance on the NCLEX licensure examination.
Nursing Schools Almanac's mission is to provide an accurate, complete and powerful online resource so that aspiring nursing can use detailed and comprehensive data to select a nursing school.
Waynesburg's Nursing Program was also recently recognized as a top-five program in the state of Pennsylvania by RegisteredNursing.org, ranked by the organization for the fifth consecutive year.
The baccalaureate degree program in nursing, the master's degree program in nursing, and the Doctor of Nursing Practice Program at Waynesburg University are accredited by the Commission on Collegiate Nursing Education, 655 K Street NW, Suite 750, Washington, DC, 20001, 202-887-6791.
Nursing Program
Turn your compassion into a lifelong career at a premier nursing program in the region. Click below to learn more about Waynesburg University's Nursing Program.