Jill Sunday
Chairperson for the English and Foreign Languages Department, Writing Program Administrator and Assistant Professor of English
Biography
Jill Moyer Sunday loves words. As the founding director of the Waynesburg University Writing Center, she builds and oversees programs that empower and strengthen both undergraduate and graduate writers. In the classroom, she mentors beginning writers, grant writers, creative nonfiction writers, and prospective English teachers, as well as propping open the door to literary adventure.
After living in Spain as an English/Spanish double major at Carlow University and earning an M.A. in English Literature from Duquesne University, Moyer Sunday worked as a journalist for a city magazine in Pittsburgh, where she won Golden Quill and Matrix awards for long form investigative journalism. She expanded her writing circle, working as a consultant for a variety of corporations in the Pittsburgh area producing corporate manuals, technical brochures, and public relations packets. That real-world writing experience consistently informs her roles in the Writing Center and classroom.
Her experience as a journalist drives her interest in creative nonfiction, a genre sculpted from journalism. Her experience in literary study informs her interest in mid-century American fiction (particularly Hemingway) and current American literature, which in turn leads to an avid interest in social justice. Her experience as a professional writer fuels her interest in composition pedagogy and process writing. In the classroom and the Writing Center, she believes in meeting students and writers where they are…and then having a good conversation.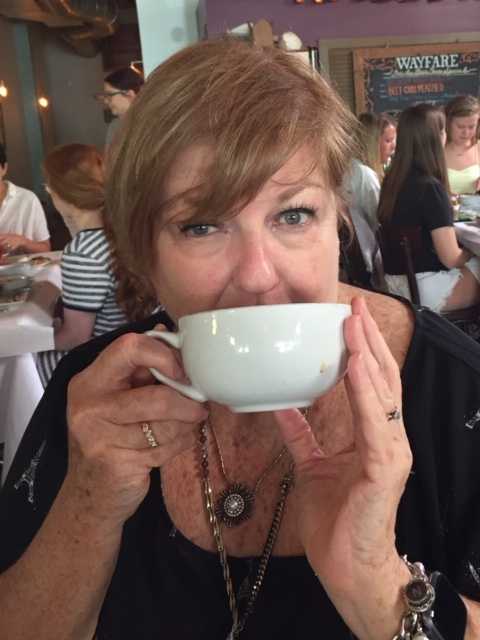 When she's not reading or teaching, she's writing. Her recent creative nonfiction can be found in multiple volumes of The Anthology of Appalachian Writers, JAEPL, and Writing on the Edge. A writing project is always in progress. Moyer Sunday often writes about family intersections, myths, traditions, and realities. She finds stories everywhere, but inspiration is readily available in her own family. She her husband have four children, who all delight their mother by writing daily in their professions: Matthew, a sports photojournalist in Pittsburgh; Andrew, a Pittsburgh-based product manager in the energy field; Laura, a law student in New Orleans; and Rachel, a social media manager for a large corporation in San Francisco. The Moyer Sunday family is rounded out by a Golden Retriever named Hemingway, who hasn't yet learned to write, but his human parent hasn't given up on him yet.
Education
B.A., Carlow College; M.A., Duquesne University