Digital Design
Use modern software and enduring design theories to make eye-catching work for digital and print formats.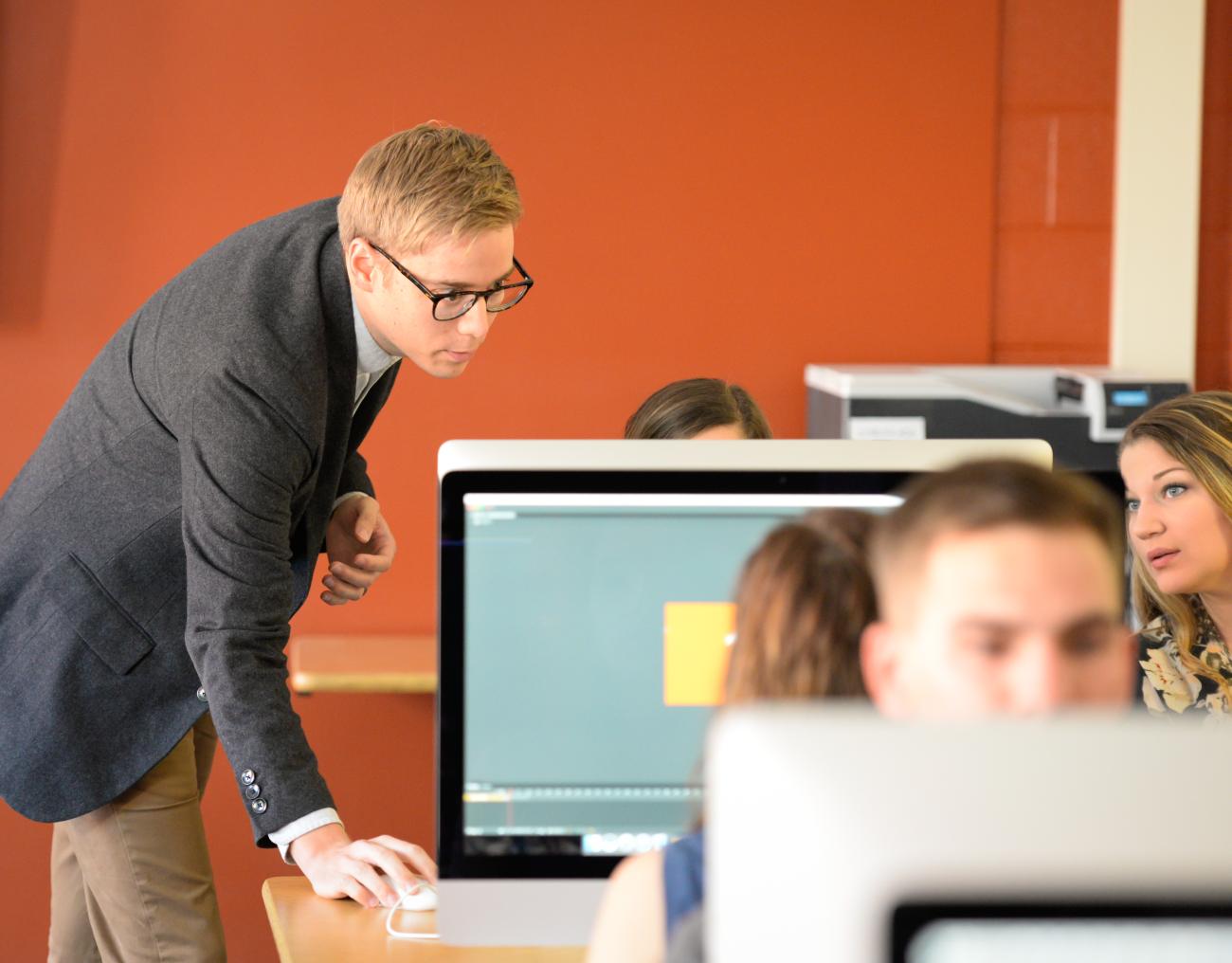 You'll design projects in and out of the classroom to build a professional portfolio that will open doors for your career.
Through our curriculum's blend of technical knowledge and practical experience, you'll learn to design, develop, and execute professional quality graphics for use in both print and digital projects. You'll explore the basic principles of design for visual communication and gain expertise in the integration of visual and text in emerging technologies, including web design and social media.
Outside of the classroom, create professional work with local business and nonprofit clients, and participate in various student media design opportunities: creating newspaper layouts, taking photographs for the campus newspaper and yearbook, designing advertising for local clients, making graphics for TV shows, and creating and maintaining modern websites.
As a Digital Design major, you will complete an internship in the design field. Past students have landed amazing internships with companies like Hasbro Games, the Pittsburgh Pirates, and Pittsburgh Magazine.
Upon completion of this degree, you'll be a well-rounded designer, ready for  a career in graphic design, photography, web design, or any other visual communication position.
Learn with industry-standard technology and resources
From day one, you can leverage the iMac Lab's 19 retina iMacs with graphics drawing tablets, digital scanners, and industry-standard design software including the entire Adobe Creative Cloud suite. In the photography studio, use professional studio strobes, numerous backdrops, and dozens of various light modifiers to capture the perfect photograph.
Strengthen your degree with a Digital Design minor
Study visuals and text as communication tools, web design and social media platforms, and the basic principles of design for effective presentation. A digital design minor can round out an advertising, public relations, or journalism skill set, and can be a helpful tool for any student whose professional work will require communicating through compelling print or digital media displays.
Alumni testimonials
"I was provided countless opportunities to apply and expand upon what I've learned in my digital design courses within an encouraging environment. I felt I was a part of the best family of mentors and friends pursuing excellence together."
Cori Schipani, Assistant Designer, Pittsburgh Quarterly Magazine
Coursework
Our curriculum is designed to prepare you for a career in a multitude of design-related fields including graphic design, photography, illustration, animation, and branding.
Mad Anthony Yearbook
Members of our Mad Anthony Yearbook team can be seen taking photos at nearly any campus event. Through our commitment, we provide an excellent recap of the academic years here at Waynesburg University by publishing an annual book featuring events and students.
Design Club
The Design Club strives to enhance the knowledge of its members through skill application and by expanding members' views of design as it applies locally, nationally, and internationally. It assists members in finding purpose and pride in their work. The Design Club works with on-campus organizations and local nonprofit clients to serve the community while gaining industry knowledge and experience to use in the professional world.