Electronic Media
Build a portfolio of work that television and radio production employers seek.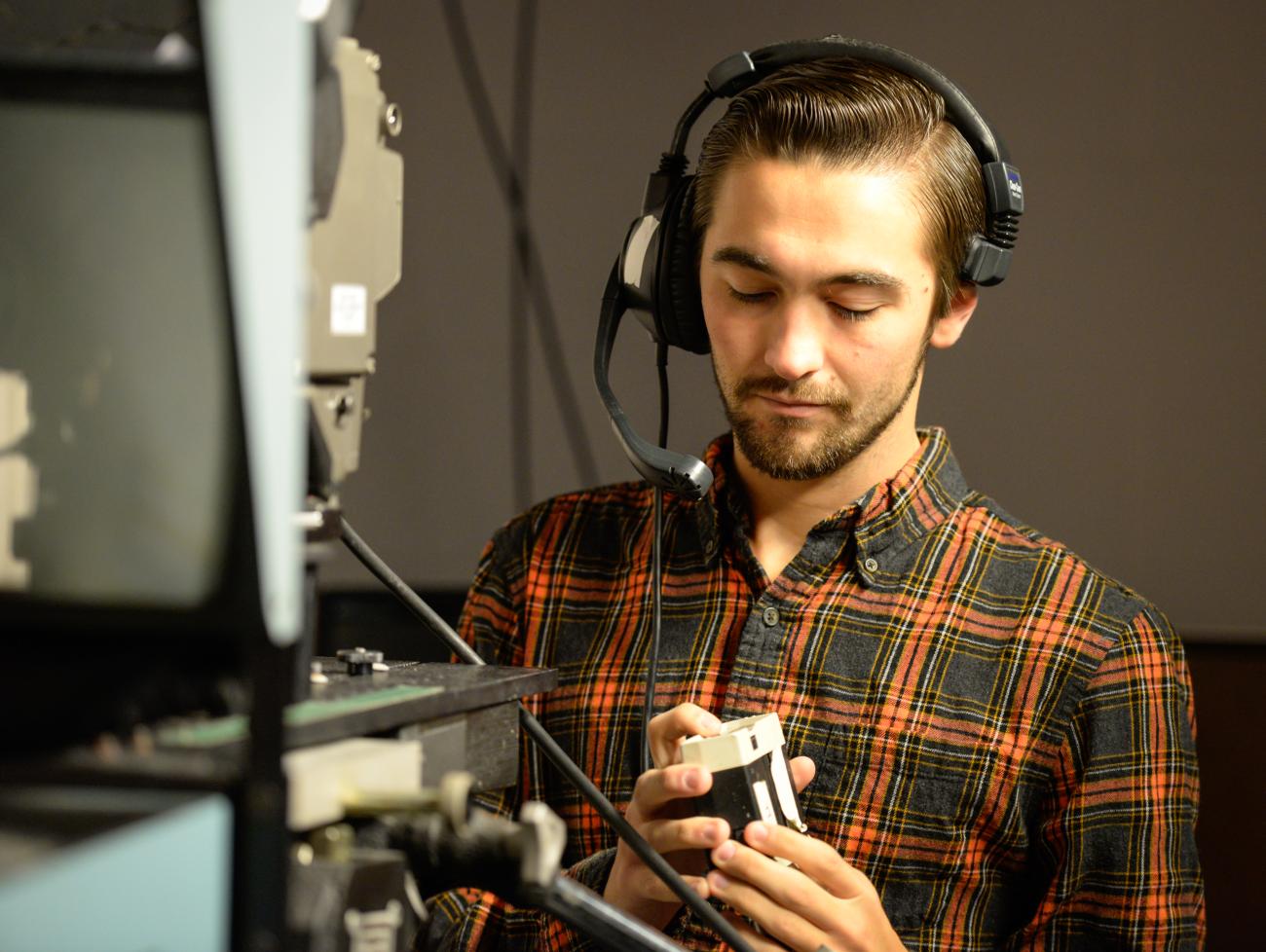 Learn to record, create and edit audio and video content for a variety of media as early as your first month on campus.
Throughout the curriculum, you'll learn to use cameras, audio mixers, microphones, and other industry-standard technology to create professional quality productions both in and out of the classroom, complete hands-on experiential coursework, work for numerous on-campus electronic media outlets, and freelance with video production and creative services teams in Pennsylvania, West Virginia, and the surrounding area.
Outside of class, you can join the remote production crew for various weekly shows in our television studio or practice live from a fully equipped television production truck that covers numerous events each semester, including football and basketball games as well as community events.
The program's blend of theory and real-world practice has prepared our students for internships and careers at media organizations including The Daily Show on Comedy Central, ESPN, WTAE, KDKA, the Pittsburgh Steelers and more. You'll graduate prepared for careers in radio, television, news production, and other emerging media fields.
Get hands-on experience early
At Waynesburg University, you will have the opportunity to gain hands-on experience with a camera, audio mixer or microphone in your first month. By having access to innovative equipment, you'll be able to use technology to create jaw-dropping productions both in and out of the classroom as early as your first semester on campus. You'll have the chance to work in our TV studio, or with organizations like WTAE Pittsburgh, ESPN, and local high school football coverage.
Focus on film studies with our unique minor
Our Film Studies minor will help you prepare for a career in film production. You'll learn the ropes of the industry at WU by completing courses in the history of film, script writing, and directing. The highlight of the minor is the semester you'll spend at the Los Angeles Film Studies Program.
Alumni testimonials
"Waynesburg's Department of Communication gave me a tremendous introduction to the broadcast journalism field and prepared me for the professional world. The professors at Waynesburg truly care and helped me pursue my dreams."
Anthony Conn, Multimedia Journalist, WTOV9
"The constant work experience in the field along with the family-like atmosphere in the classrooms were a formula for success. I felt extremely prepared to interview for and obtain my dream job thanks to the time I spent at Waynesburg University."
Emile Khoury, Video Producer, Pittsburgh Steelers
WCTV
Waynesburg Community Television is produced and operated by the students of Waynesburg University. The newly High Definition station offers students the opportunity to showcase their on-air talent as well as operating professional equipment behind the scenes.
WCYJ
WCYJ-FM is a student-operated radio station that broadcasts out of Waynesburg, Pennsylvania. It informs the town of Waynesburg of local, regional, and national news, as well as sports and entertainment. 99.5 the Hive plays hot adult contemporary music while having various specialty shows.
Coursework
View the academic catalog to further explore the curriculum.