Online Learning Team
Solid Education in Uncertain Times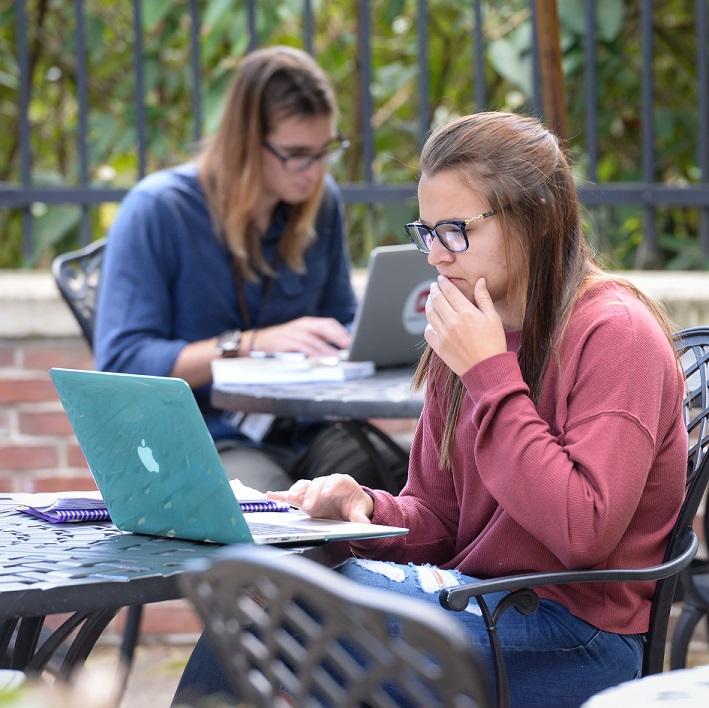 Waynesburg University's online learning team strengthens the University's mission of creating exemplary learning opportunities for students.
A regional leader in online learning for graduate and professional students, Waynesburg University is well-versed in providing excellence in online programming. As the world navigates through the uncertainty of the coming semester, the University is committed to providing a standard of education that prepares undergraduate and graduate students to learn and grow, and the resources for faculty and staff to help facilitate that growth.
To begin, here are a few key resources about the Canvas Learning Management System for faculty and staff:
Student learning is our priority
We take learning very seriously. That is why we want to equip students with the essential skills they need to navigate their courses. We want students to feel empowered and in control of their own education. Students can expect to be taught by faculty who are working to design flexible experiences in their classrooms during the fall semester. Many courses will use hybrid methods of instruction that involve both in-person experiences as well as on-line components. The University will provide comprehensive resources to students so that they can learn how to learn on-line. Our team of Instructional Designers work with our faculty to design courses that engage students to think critically and collaboratively in a digital space.
Student Resources
---
Ready to help
If you need additional assistance in learning to learn online, we are here to help! One of your first options is to reach out to the instructor of your class. Waynesburg University faculty are full of information and are true advocates for your learning. The best way to get in touch is through email. Find your professor at the directory link below.
Secondly, the Pathways Center is a unique campus initiative to provide comprehensive student support services including Tutoring, Disability Services, Student Success Services, Career Development, Vocational Exploration, MUM System, Study Abroad, Student Work Study Program, Library Services, and more. Each of these services is available to students who are learning remotely. The Pathways Center
Finally, every Waynesburg University student has a faculty advisor who is available to help support their learning and academic planning. Because your advisor teaches directly in your program of study, they understand all of your courses and requirements. If you have any questions about on-line or in-person instruction set up an appointment today! Faculty & Staff Directory     
View tips on succeeding in an online course
Faculty Resources
---
Teaching with intention
Instructional designers are interested in the science of learning. They bring to the table the requisite knowledge, skills and experiences to help design educational spaces that focus on the needs of the learner. As faculty transition from traditional face-to-face instruction to incorporating online learning, their courses will support a wide array of e-learning formats.   The Instructional Design Team collaborates with instructors to integrate best practices to transform traditional courses into global offerings. We also provide training for faculty and students in efficient use of the Canvas Learning Management System across all University courses.
Supporting faculty at every step
The Online Learning team is here to assist you with taking your course from face-to-face to online. We offer a rich array of resources to support faculty. Working together we can implement a number of strategies to create engaging courses and a learning environment that is easy to use and where students will feel connected. Your instructional designers are here to assist you in designing and developing a complete course. We also provide training for faculty and students in efficient use of the Canvas Learning Management System across all University courses.
An academic treatment of online learning
Although there are many design models for developing instruction, the principles of engagement, active learning, relevance, practice and problem solving are common to all. Instructional designers collaborate with faculty to develop courses and often coordinate the development of learning environments that integrate educational strategies, media development, learning activities, technology integration and assessment. To accomplish this, they may assume the project management lead, assembling a team of web programmers, videographers, technical support specialists and graphic designers with the intent of taking the heavy lifting off the shoulders of the faculty so they can do what they do best.  
Return to Class Tips for Faculty
Brunch and Learn Tutorials
Session 1
Explore tools for course building, assessment tools, design best practices. Watch now 
Session 2
Learn more about using videos, polls, chats and breakout rooms, Microsoft Teams and view examples of innovative instructional design. Watch now 
Session 3
Explore question banks, using videos and images in quiz questions, and grading and rubrics. Watch  now
Session 4, pt.1
Get familiarized with the basic functions of Canvas with this introductory session. Watch now
Session 4, pt. 2
Learn about some of the best practices for using Canvas for online learning. Watch now
Session 5
Explore principles of an effective online pedagogy. Watch now
Session 6
Learn about building Canvas video quizzes (Intermediate to Advanced). Watch now
Session 7
Time on Task, Flipping the Classroom and Ideas to Prevent Cheating  Watch now
SESSION 8
Group Work and New Courses and Resources Watch now
SESSION 9
Preparing to Teach Online Self-Paced Course Watch now
SESSION 10
Microsoft Teams Part 1 Watch now
Sharing Faculty Success
The Department of Fine Arts
"Our department has really gotten creative this semester. I've created several video demonstrations using clay that can be sculpted and baked at home for my ceramics class. Katie Rearick teaches our Jewelry and Metals class where she had to shift to making jewelry with things her students have at home. The department is working on a virtual student art show to exhibit the work our students have been making. Our music faculty have been working with large groups of students to create beautiful ensemble pieces. We are even working toward a virtual concert where the students have been recorded themselves playing music and then our faculty are editing videos with all of the students playing together. Dr. Ronda DePriest continues to meet with her 30+ member Symphonic Band to work through music and Melanie Catana is working the same way with her large-member Lamplighter Choirs. I am honestly amazed at the creative measures everyone has gone to in order to create a fantastic learning experience within the situation that we have been handed."
-Andy Heisey, Chairperson for the Fine Arts Department and Associate Professor of Art
Uncovering Canvas Newsletter
The Uncovering Canvas Newsletter explores additional faculty success stories. 
Giving Extra Credit in Canvas
Communicating Success in Online Courses